We love these solid plaque mounted posters!
Made of strong wood and laminated to protect the surface, they are beautiful additions to every medical office.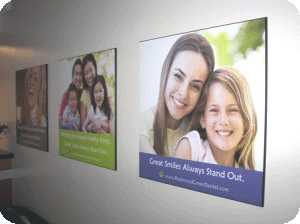 Not only do they last a long long time, look clean and professional, they can also be customized with a unique message about your dental practice. Whether it's to promote teeth whitening, cosmetic procedures, or to set a warm and peaceful mood for your office these large posters can more than meet your need.
Why put up generic artwork or paintings when these large posters can showcase your office's unique brand messaging and can be used to remind patients of the many different services that you offer.
Got office windows that need some dressing up? We love these perforated mesh window posters that are applied to the outside of the window. They are made of a specialized material with fine perforations throughout. Passerby will notice your poster signage but won't be able to see in to the window. However your patients inside will be able to see out! Also a very nice way to reduce the level of sunlight coming in through your windows.
Let us show you how we can help add some customized marketing to your office windows and waiting areas to greet your new patients as they come through your door!
For more details please send us an email to smile@newpatientmarketing.ca or call us at (416) 899-4992.